56 successful children nominated, 14 amazing winners and 2 very happy overall winners.  That was the result of the Rowdown School Awards 2019 recognising another year of outstanding effort and achievement from all the pupils at the school.
Once again we have to thank Shard Capital for the generosity in sponsoring the awards which enabled us to offer some lovely trophies, £10 book tokens for every child nominated and £75 of entertainment vouchers for each of the overall winners so they could treat themselves and the rest of their family.
The 56 nominees entered the hall in front of all of the school and received their certificate of nomination from Gareth Burchell, Rowdown old-boy and now Partner at Shard Capital.  Our own Gary Coy presented the book tokens.  He apologises for not having the top button of his shirt done up...it was a hot day!
Next came the announcements of the Year Group winners in each of the two categories: Achievement / Progress and Attitude / Effort.  Congratulations to the following winners:
And the overall winners were announced to big cheers: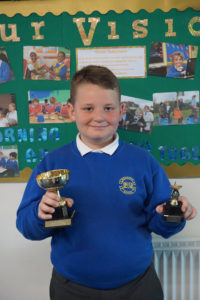 For Academic Achievement or Progress:  Alex Vaman, Year 5
For Attitude and Effort: Teagan Froud, Year 2 
Huge congratulations to them both for their awards; very well deserved.
Below is a little gallery of the happy faces.
We look forward to doing it all again in 2020!